MIKE KEMP/GETTY IMAGES
The long geopolitical game around the Nord Stream-2 pipeline is approaching its end. Gazprom's blackmailing strategy is pretty blatant for those willing to see. But Russia's position may not be as strong as chief strategist Vladimir Putin imagines.
Having said goodbye to US president Joe Biden last month, German chancellor Angela Merkel has paid what is presumably her last visit to Moscow in office. Disappointingly for her, the trip did little to convince Europeans of the good will or good faith of her host and friend, Russian president Vladimir Putin, On the contrary, he looks set to continue playing energy hardball and using his country's gas as an energy weapon to sow uncertainty and havoc in the EU ahead of the winter season.
The end of the pipe-laying operation for the Nord Stream-2 (NS-2) pipeline ushers in the end-game in the Kremlin's geostrategic powerplay – and its most challenging phase, that of insurance, certification of works, licensing of operation, and the start of trading and of capacity load-up.
Gazprom has stepped up its propaganda campaign to get around the regulatory and legal barriers that prevent utilisation of the full capacity of EUGAL, NS-2's onshore segment. It seems to be an all-out effort mobilising all the assets – political, diplomatic, business, media and secret service – at the disposal of the Russian state.
But the odds are not in the Kremlin's favour.
For a start, on August 25, a German appeal court ruled that Nord Stream-2 was not exempt from EU legislation. This was the Dusseldorf Higher Regional Court, whose ruling rejected an appeal lodged last year by the NS-2 operating company. This decision kills hopes that Gazprom will be able to make full use of EUGAL's and NS-2's annual capacity of 55 billion cubic metres (bcm).
It's a minefield. And Putin's most valuable asset, Mrs Merkel, will leave office in September before clearing it, unable to remove the latest set of barriers facing her beloved Nord Stream-2. She is likely to be succeeded by a coalition government less supportive of Mr Putin and Gazprom.
The Gazprom two-step
Still, law isn't everything. There's also blackmail – and scare tactics. And recent events show that the Kremlin's plan is unfolding rather predictably. It now looks as if Gazprom's strategy of brinkmanship depends heavily on a specific two-step tactic:
In Step One, Gazprom pushes a narrative of "record-low" levels of production, supply or storage in Russia and Europe, involving genuine or staged (or simply fictitious) incidents affecting production facilities or pipelines, creating an expectation of imminent crisis – and presenting NS-2 as a neat way of avoiding or solving that crisis.
In Step Two – if Step One hasn't done the trick – then the Kremlin will stick to the 'revenues and market shares before Gazprom' rule, regroup and other Russian energy companies (e.g. Rosneft, Lukoil, Novatek) could cut in as 'third parties' to supply gas via NS-2, thus formally complying with EU's regulatory and legal framework.
It's happening now.
A recent article on the gas situation carried by Russian state news agency Interfax provides a backstory of reduced production levels at home. Russia's Kommersant daily – not the most independent of publications nowadays – has reported that Gazprom's gas stocks in both Russia and Germany are well below their routine levels, standing at 18% of capacity on average in Gazprom's EU-based underground gas storage facilities (UGS), as against 61.5% in UGS across the Union as a whole. And during the first 13 days of August, Gazprom offered less than 900 million cubic meters (mcm) of gas on its electronic trading platform (ESP) in St. Petersburg. Later in the month it stopped offering gas altogether.
As to production problems, one of those has cropped up too. In early August, Interfax reported a serious accident at the first train of Gazprom's condensate-processing facility at Novy Urengoy in the Yamal-Nenets region, which put additional curbs on gas output from large gas fields in West Siberia. Experts reckon that, by year-end, the company's gas output will have dropped by a cumulative total of around 8 bcm without this facility. The effect will be immediate along the Yamal-Europe pipeline, both in Russia proper and in Poland and Germany: the total volume of gas shipped daily through this pipeline has registered a drastic fall from 84 mcm to 50 mcm, said Interfax.
And, of course – in accordance with a pattern that has become well established over the summer – there's no prospect of much Russian gas coming through Ukraine: Gazprom, it emerges, has booked just 4% of the transit capacity offered for September.
Understandably, the market is getting neurotic as gas prices soar and UGS injections are reported to be at scarily low levels. Neurotic – and suggestible. Two months ago Gazprom's CEO Alexei Miller promised 'cheaper gas' once the NS-2 comes online. Last week, TASS quoted a Gazprom press release as being a bit more specific: 5.6 bcm of gas could reach Germany by year-end if NS-2 becomes operational at the end of October. And gas hubs in the UK and continental Europe reacted instantly (albeit temporarily) |with a 5% drop in spot prices in the afternoon of August 18 and 5% more the following day.
The message was explicit. If Europeans are desperate for cheaper gas in the cold of winter, they will have to get it from Russia, the only gas producer with sufficient spare capacity. But the only way to do so is to loosen the regulatory and legal stranglehold on NS-2. The markets understood the message perfectly. And, the Kremlin no doubt hopes, decision-makers in Brussels and EU national capitals will have taken note too.
In other words, having set the stage, Gazprom wants to get on with the show. Curtains up, light the lights! And enter NS-2 in the role of saviour committed to making up for almost any current shortfall on the EU gas market.
Or possibly – and this is where Step Two comes in – enter the rather scary Igor Sechin to put in a cameo appearance.
Mr Sechin is a power in the land – known in some quarters as "Darth Vader" – and he's been itching to get access to gas export pipelines for years, so far without success. Last week, Kommersant reported that he had asked Mr Putin to allow Rosneft to export 10 bcm via the NS-2/EUGAL in 2022, as an agent of Gazprom, to help the latter comply with the third party access requirement of the EU's Third Energy Package.
Whether Mr Putin will agree to this is unclear, but if he has no other option, he might play the Schroeder card as chairman of the Rosneft board, appealing to his sympathizers in Germany.
Simple as that? Well, maybe not, for two reasons.
It ain't necessarily so
First, some fairly good (and Russian-derived) figures are available – and the output and supply picture painted above isn't quite the one they suggest.
Russian gas exports to Europe are certainly down, and this can easily be double-checked by experts from data taken from gas-metering stations at entry points in Slovakia, Turkey, Poland, Ukraine and Germany. Export volumes of Russian gas are below par, according to data quoted by CNBC, and those to Poland and Ukraine, in early August, were down by a considerable margin.
However, a commentary published on August 13 by one heavyweight energy news provider, ICIS, mentions two crucial facts, both derived from Russian sources:
In contrast to the Interfax "backstory", Gazprom's official figures, quoted by ICIS, show gas production in mid-summer at record-high levels, unseen in previous years;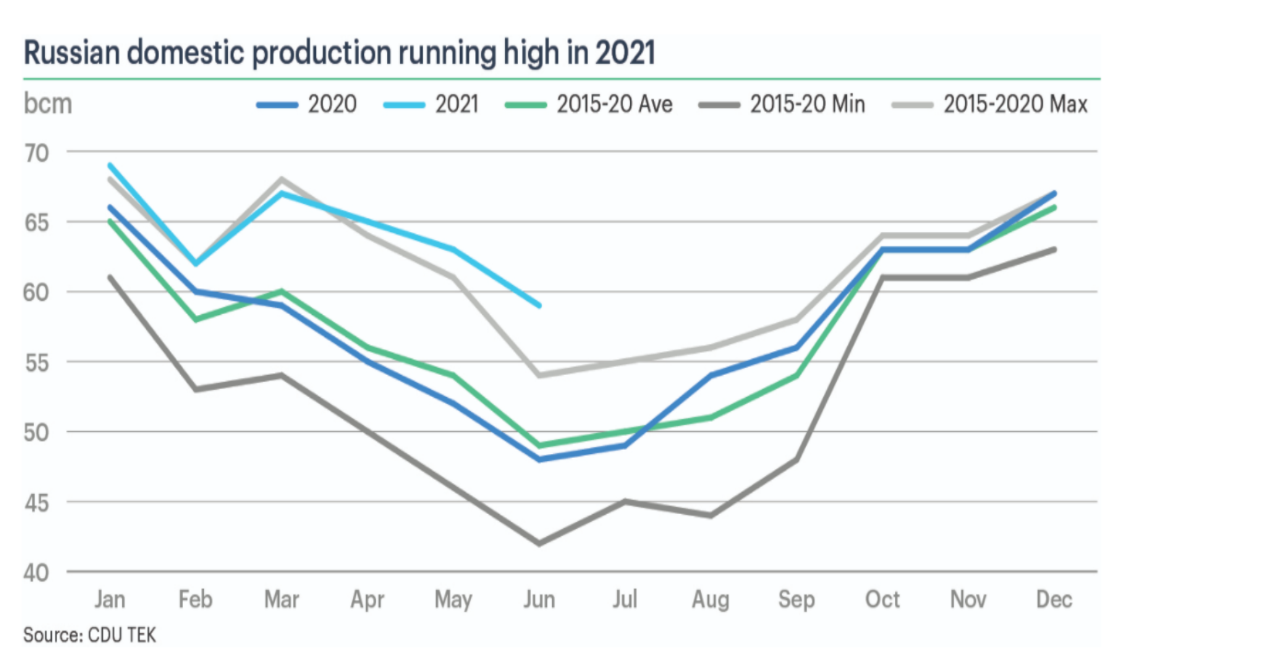 Furthermore, official statistics suggest that internal Russian gas consumption levels do not warrant such a drop in exports.
Figures from Russia's Ministry of Energy, quoted by Izvestia on August 27, suggest that internal Russian gas consumption has gone up due to hot weather and slightly higher consumption by gas-fired power generation. However, these are gas volumes on the internal gas balance sheet, produced by companies with no access to export pipelines (such as Itera). So, as far as Gazpom is concerned, ICIS' point stands. And the volumes in question are, moreover, not all that large.
These articles analyses and comments are made possible thanks to your empathy and contributions, which are the only guarantors of independence and objectivity in our work. The Alternatives and Analysis team.
Lower exports, substantially higher production and flat (or only slightly higher) consumption? Prima facie that's an odd combination and the most obvious explanation is that gas is going into depleted UGS within Russia itself. Domestic storage is the least well – or least promptly – documented element in the supply chain, data-wise, so we don't know. But the Interfax article cited above may provide a little support for this hypothesis. It reports record gas withdrawals (totalling 61 bcm) from UGS facilities in Russia this past winter, adding that Gazprom's top priority today is to inject the same amount ahead of next winter. The question is: how fast is this going? Interfax is silent, remarking that Gazprom does not publish data on UGS stocks as regularly and quickly as storage facilities in Europe. How the Novy Urengoy incident will actually affect production – and for how long – remains to be seen, but it's quite possible that the situation before it was nowhere near as lean as Gazprom wants us to believe.
Gazprom's next moves
The second reason is that Gazprom – and the Gas Boss in the Kremlin – may be in a weaker position than both suppose. There are limits to blackmail. In order to play Mr Nice Guy, or even Mr Indispensable, the Russian president mustn't come out into the open as an outright gas bully. And it's not obvious that he can afford to do this, because it could backfire. As previously argued in this blog, high prices are forcing consumers to switch to coal and look for alternatives to Gazprom worldwide – in Qatar, the US and even faraway Australia. With spot prices at 47 Euro/MWh, oil-indexed long-term contracts or Henry Hub-benchmarked LNG cargos become competitive with Gazprom pipeline gas. The logical move for the Kremlin, if it can beef up production levels in the coming months, is link reduction in prices to recognition of Gazprom's dominant role – making low prices seem like a blessing bestowed on Germans lucky enough to have direct access to Russian gas via NS-2.
If the Kremlin pushes too hard, its competitors, lured by record prices, are likely to flock to the EU market, potentially biting chunks off Gazprom's market share there. That would take time, but once they produce and ship gas on the necessary scale and the logistics are in place, LNG cargos could make up the difference between demand and supply – especially as the pandemic has been nibbling steadily at overall demand.
It should be, therefore, in Gazprom's interest to avoid market share loss and a complete gas market inversion by achieving an optimal price level sooner rather than later, low enough to discourage competitors from coming onto the EU market. In the interim, its game plan is to pump up gas reserves in Russia, at the expense of exports, and only then replenish the levels of gas it has stored in EU-based UGS facilities. Come winter and growing demand, the Kremlin reckons, the Russian gas monopoly will be in a stronger position to cover supply gaps by offering shipments via NS-2 – and its "Southern Sister" Turk Stream-2 (TS-2) – as the sole "take it or leave it" option.
Even in that case, however, it's important to note that Mr Putin himself will be subject to certain constraints. He can't play hard-to-get indefinitely. If gas consumption and production in Russia remain at current levels, he will have to sell more gas in the EU, rather than store it at home, as peak-demand balancing in Europe can't be done from UGS in Russia. Pipeline gas destined for Europe can't be sold via pipeline to Asia. And LNG exports are not an option either.
So the Russian president, who is the real CEO of Gazprom, is seen to be exercising pressure – or even if his attitude is one of benign neglect – Germans could second-guess his trustworthiness and finally start looking for alternatives. And alternatives have never been lacking: it's only the German government's reluctance to build LNG terminals that has made it overdependent on pipeline gas.
Mr Putin realises all this. A tyrant and a chancer he may be, but few would accuse Vladimir Putin of lacking sense.
And our next move?
In sum, the EU shouldn't be panicked or fatalistic about the situation. Mr Putin doesn't hold the strongest cards and he'll be in trouble if he tries to overplay his hand. However, though gas prices will subside rather than soar further later this year, we should see further than the immediate market situation – and act on what we see.
What does that mean in practical terms?
Well, first, even if Mr. Putin and Gazprom act moderately this winter, full-capacity operation of NS-2 and EUGAL for Gazprom gas should not be allowed. It is in EU's interest to see more Russian gas producers get access to NS-2 spare capacity. The EU is a congenial context for the defense of German national interests and the more or less acceptable exercise of German national influence. Even Mrs Merkel has been unwilling to sacrifice Germany's place in the Union by simply bending EU rules as Mr. Putin pleases. Her successors are likely to be even less willing to do so.
A second – and connected – point is that we need to appreciate the Ukrainian transit pipeline system and realise that it is not only about lost transit revenues for Ukraine. Its virtue is not just that it benefits a beleaguered victim of Mr Putin's aggression and that bypassing it makes Kyiv even more beleaguered. There are more technical virtues too. Chief among these has been the level of security it has provided for the transit of almost 120 bcm of Russian gas, in terms both of spare capacity and of alternative routes comprising parallel interconnected pipelines, which have guaranteed free passage against almost any infrastructure failure.
Contrast the Nord Stream system – NS-2 and its older sister Nord Stream. This does not offer anywhere near Ukraine's transit flexibility and security for the rather smaller volume (110 bcm) of Russian gas that it claims to be able to carry annually. (A rather dubious claim, by the way, but we'll leave that for another time.) Any major incident could expose the level of vulnerability of German and EU consumers. Repairs to subsea infrastructure are substantially more resource- and time-consuming than those to land-based pipelines. And, in the event of an emergency in the Baltic, the Ukrainian gas transit network could only help to a limited – and a diminishing – extent, as Gazprom is deliberately decommissioning gas pipelines in Russia that interconnect to Ukraine. Europe needs both Ukraine's transit and its storage facilities in order to rest easy even in a worst-case scenario.
Third, we need to start taking questions of access and reciprocity a lot more seriously – and exerting pressure on the Kremlin about them. If Russians have the liberty to access the EU gas transmission system's entry and exit points, then so should EU companies with regard to Russia. This is a matter not just of reciprocity but also of simple prudence about energy security. EU gas traders should be able to buy Gazprom gas at Russian-Ukrainian border or Russian-Azeri border.
Fourth, in parallel, the EU should encourage LNG producers by making the necessary arrangements and concluding forward and futures contracts for the coming winter. The Germans, in particular, should start – vigorously and visibly – to remedy their previous failure to develop LNG infrastructure. And if Mr. Biden is serious about solidarity and security, he should take the initiative and engage with the EU to build a strategic transatlantic gas bridge that will defuse Mr Putin's winter gas bomb.
Fifth, we need to treat the Southern Gas Corridor seriously. Important as Northern Europe is, we need to remember that there is a world elsewhere. We also need to realise that the Southern Corridor has a far greater potential than initially conceived – and act accordingly. If the EU seeks to secure a level playing field for gas producers, it should make sure it denies Gazprom exclusive access to TS-2 or other transit infrastructure in the region, and allow third parties to compete.
Sixth and finally, more on the "Sechin option". Allowing other Russian companies to export via the "Streams" might be a useful way of providing an element of third-party access and even contributing to a long-term loosening of the system and a weakening of Gazprom. Mr Sechin's clout and ruthlessness might be useful assets in encouraging those trends: even Darth Vader has his uses if he's pitted against the Empire! All this with one proviso: we really need to have those LNG arrangements firmly in place first. Rosneft gas needs to be a complement to LNG, not a substitute for it.
In short, we must think strategically. Simply reacting to short-term market considerations will, sooner or later, put us at the Kremlin's mercy.
Ilian Vassilev
Thank you for your donations via PayPal and bank transfers to IBAN BG58UBBS80021090022940