Russia has unveiled a new weapon to be used in its propaganda and hybrid warfare efforts: the International Russophile Movement. And its head is (minor) Bulgarian politician Nikolai Malinov. There are historical echoes of another Moscow-centred "International" in which Bulgarians played a prominent part, the Communist International (Comintern) of 1919-1943. The new organisation has its ludicrous side – and certainly has severe limitations. But it's a sign that Russian operations designed to influence, subvert and misinform are likely to intensify. Many politicians vie for the job and the title of "main" Russophile in Bulgaria. To name but a few, there are current president Rumen Radev and former prime minister Boyko ('Turk Stream') Borisov, not to mention more junior contenders Kornelia Ninova – leader of the 132-year-old (former Communist) Bulgarian Socialist Party (BSP) – and Kostadin Kostadinov, who heads the somewhat younger "conservative nationalist" formation Vazrazhdane ("Rebirth"). But now there's an answer, and it's official, with documents to prove it: the top Russophile in the land is (drum-roll) – Nikolai Malinov!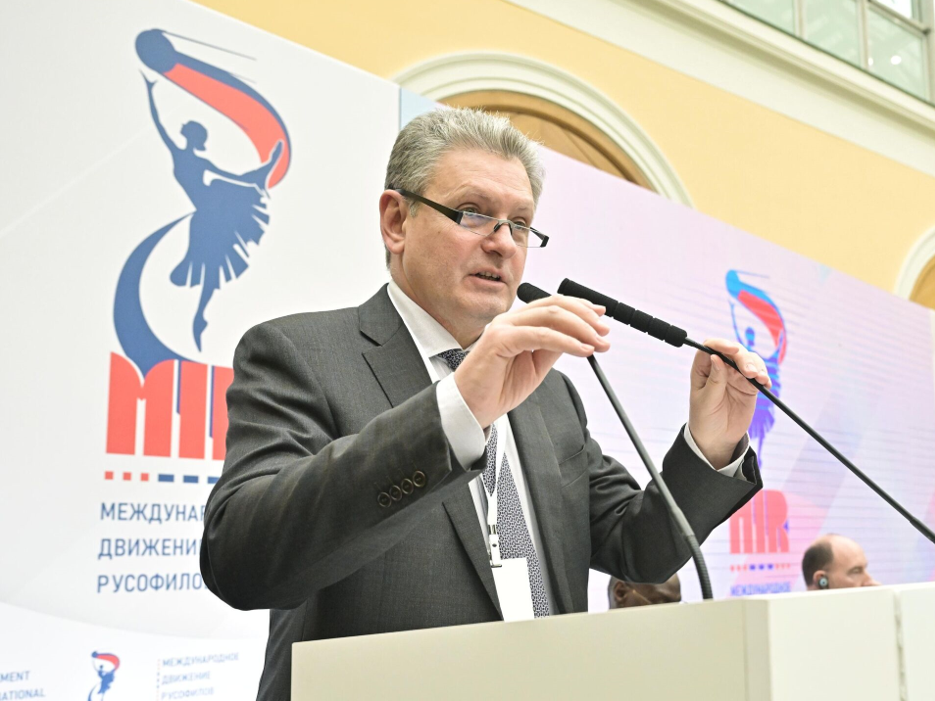 Mr Malinov is the leader of the "Russophiles for the Rebirth of the Fatherland" party (the "Fatherland" in question, just in case you're wondering, being Bulgaria). And his latest trip to Moscow ended with a programmatic speech last Tuesday at the Founding Congress of the International Russophile Movement, of which he had just been elected chairman.
In attendance, too, were Russian foreign minister Sergey Lavrov and his ministry's special representative for relations with the United States and Japan, top US Russophile (and Hollywood actor) Steven Seagal. All in all, 90 participants from 42 countries turned up at the forum. That's a small number, it is true, but it included some really-top drawer people – an Italian princess, for instance, and a grandson of French statesman Charles de Gaulle.
From reports in the Russian media, we learn that the initiative for this "new Comintern" came from none other than Mr Malinov. So he Is carrying on the "glorious" tradition of two genuinely substantial Bulgarian figures of the international communist and workers' movement. Georgi Dimitrov was involved in the Comintern (also known as the Third International) for most of the interwar period, heading it from 1935 to 1943. He ended his life as Bulgaria's first communist prime minister (PM) – and after his death took up residence in a Lenin-style mausoleum in central Sofia. Vasil Kolarov was also prominent in the Comintern for most of the same period and, postwar, took over the premiership after Comrade Dimitrov's death, serving until his own in 1950.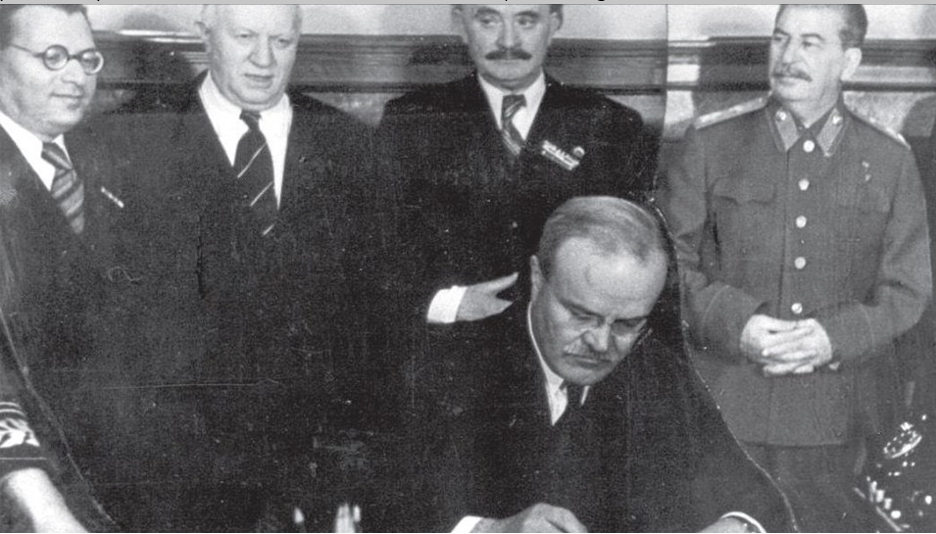 From Left to Right – Kostov, Kolarov, Dimitrov, Molotov, Stalin
The Russophile tradition was passed down the years by such communist heavyweights as Valko Chervenkov – leader of the Bulgarian Communist Party (BCP) 1949-54 and PM 1950-56; Grisha Filipov (PM 1981-86), and Andrei Lukanov (spectacularly unsuccessful PM for most of the troubled year of 1991, and assassinated in 1996).
And now there's Mr Malinov.
Well, we have a new Stalin in the Kremlin. So why shouldn't there be a new Kolarov?
True, said Stalin – alias Russian president Vladimir Putin – didn't actually make the inaugural Congress. But he did the next best thing and sent along an Address, read out on his behalf, in which he outlined the critical tasks of the new movement. It is to contain "anti-Russian hysteria, which is being deliberately whipped up in many countries, as our compatriots and those who sympathise with them are being persecuted, bans and restrictions are being imposed even on the works of the great Russian classics, which belong to the treasury of world culture".
(Oddly, Mr Putin didn't mention his own little indiscretion of invading Ukraine as something that might have contributed to this "hysteria", but, hey, it was only a short Address. And, anyway, the Infallible Leader never makes mistakes like that.)
We further read in Mr Putin's message that 'fascists" worldwide are banning masterpieces of Russian writers, composers, and poets. This may come as a surprise to Sofia music lovers, who on March 31 will be attending a concert dedicated to the 150th anniversary of the birth of Russian composer Sergey Rachmaninov (who incidentally thought it prudent to leave Russia, escaping from Stalin's rule). Apparently the "fascists" missed that one.
But let's not get bogged down with details. Mr Putin's agitprop line is simple: Russian army's current bombing of Ukraine is part of Russian culture, in line with the spiritual pursuits of Pushkin, Lermontov, and Tchaikovsky. And the current Leader's deeds align with the greatness of Russian poets, composers, and writers who embody the core of Russian civilisation, spirit and culture.
Mr Lavrov expanded on Mr Putin's address, describing the presence of foreign guests – including Bulgaria's new Vasil Kolarov – as an "act of courage", "a challenge to the hegemony and values of the West". The Russian foreign minister's speech included the classic Comintern-era line that the Party – sorry, the new International — does everything in the "best international traditions of friendship between nations". Though, at least for now, he managed not to say "Russophiles of all countries, unite!"
But now we come to the programmatic speech of the chief international Russophile, the mastermind behind the new "Rusintern" – Nikolai Malinov. He defined its goal in unequivocally 'ideological' terms: "in the current difficult geopolitical situation for Russia, when 'Russophobic totalitarianism' is slowly gaining strength in Europe", IMR's role is to show "affection, love and benevolence" to the Russian people".
On a practical level, the aim is to assist the Kremlin in its propaganda war. "They [the Russophobes] are just fascists," Mr Malinov assured his audience. "And we have to show that there are forces in our society capable of resisting."
Not for the first time, Bulgarian Russophiles are aspiring to punch way above their weight. Mr Malinov has failed miserably on the Bulgarian political scene. His party received the smallest vote of any grouping participating in the most recent Bulgarian elections – a mere 0,37% of the vote. The Bulgarian electorate has made it quite clear that "Russophilia" cannot be a signifier of its contemporary geopolitical identification. The only way today's Russophiles could come to power would be via a new occupation by the Red (sorry, Russian) Army. They have no chance whatever of doing so through democracy and elections – any more than they did in 1944.
After receiving a public slap, Nikolai Malinov has got into the habit of seeking emergency psychological help in Moscow. Last time, when indicted on espionage charges, he received consolation (and a Peace and Friendship Order) personally from Dr Putin. This time the Chief Therapist wasn't there to see him, at least not publicly, but Dr Lavrov is no mean shrink either. Mr Malinov announced his trip of 'defiance' to Moscow after being included in the second list of Bulgarians sanctioned under the US Magnitsky Act, promising the media meetings with Mr Lavrov and some nice headlines – which turned out to be the "Rusintern" and his promotion (and self-promotion) as the new Vasil Kolarov.
One might ask: why Vasil Kolarov as a role model and not Georgi Dimitrov? Well, not all leaders are made of the same stuff – and Mr Malinov is no Georgi Dimitrov. He is only capable of climbing his own political Everest with the help of rather a large team of Sherpas. And he is a businessman and bureaucrat, not a revolutionary, ready for sacrifice.
Comintern vs Rusintern
Now, we've probably exhausted the comic possibilities of the situation by now. So let's be a little more serious and look at the similarities and differences between Comintern and "Rusintern"
First of all, the apparent similarities. In the case of Comintern, prominent Russophiles within the BCP took the initiative and put themselves at the service of the Kremlin to build an international network to support and promote the interests of the Soviet Union. For "Soviet Union" read "Russia" – and cut out the BCP reference – and it's much the same now. Facing marginalisation at home, Mr Malinov had to move to Moscow to sustain his financial base and unfold new initiatives. Besides, he's legally vulnerable. His activities favouring the Russian regime fall within the Penal Code definition of "placing oneself at the service of a foreign state", with all the adverse personal consequences that might bring. There can be no guarantee that a helpful judge or prosecutor-general will always be at hand.
Now for the differences. There is a huge contrast between the respective ideological bases of the Comintern and the new "Rusintern". The Comintern thrived on the initial sympathy for Russia's October Revolution of 1917 and its communist ideology, which had spread through the world like wildfire in the early days. Mr Putin has no ideological backbone, no apparent motivation apart from holding on to power and wealth, and no operating mode nowadays except aggression. Which makes him a tough "sell" outside Russia. Communist ideology won solidarity among leftists worldwide, at least in the early years of Soviet power. But Mr Putin's wars are shrinking his popularity and effectively depriving even his staunchest supporters in EU and NATO countries of mass support.
In the absence of such support, Mr Putin's friends are facing immediate and unconditional self-marginalisation. But since remaining in power requires votes, most have chosen to distance themselves from his war in Ukraine. And here we have in mind not so much communists and radicals of the left or the right, who don't win many votes anyway. We are talking of political heavweights like Italy's Silvio Berlusconi, Hungary's Viktor Orbán, and Marine Le Pen, who have happened to take a turn towards the mainstream in EU and NATO politics. However, this limits their ability to serve Putin's interests directly and in the open, which limits their usefulness for propaganda and hybrid warfare.
The presence at the Rusintern congress of the "national-patriotic" Russian oligarch Konstantin Malofeev – who also, back in 2016, provided financial backing in the scheme of Putin confidant Leonid Reshetnikov to secure the election of Rumen Radev as Bulgaria's president – suggests the growing role and importance of such "second-echelon" oligarchs in financing Moscow's foreign policy operations. These oligarchs operate primarily out of their Russian base and are relatively invulnerable to sanctions. In contrast, "first-echelon" oligarchs operate internationally and face restrictions in playing a more active pro-Kremlin role. Suffice it to look at the grievances of sanction-facing 'expats' like Oleg Deripaska, Pyotr Aven, Oleg Tinkov, and Mikhail Fridman.
So the second-echelon oligarchs have come to the fore. It is these that are financing private armies (including their operations abroad like coups and assassinations, for instance that of Italian defense minister Guido Crosetto, apparently ordered by Russia's ex-President Medvedev and suppoed to be executed out by the Wagner Group of Yevgenii Prigozhin. And they also finance disinformation projects. In short, they carry out the Kremlin's 'wet jobs' and 'sharp' operations, which are of most importance to Putin at the moment.
While it is unlikely that the new "Rusintern" project of Sergei Lavrov and Nikolai Malinov will enjoy any more success fate than Mr Malinov's previous partisan projects, it at least provides a secure new funding line for his activities. It is clear that he has the ear of Vladimir Putin and can engage the Kremlin. Therefore, the West should not underestimate Moscow's resolve to resort to Soviet tactics and restore the ghost of Comintern, building up networks for systematic interaction between different groups of agents of influence in the EU and NATO countries. Just as the main objective of the Comintern was the subversion and destabilisation of the West, the essence of Mr Putin's current agenda is, in the absence of positive goals, to inflict maximum damage on the US and the EU wherever and however he can.
Now, Bulgarians should not expect any terrorist attacks any time soon – nothing like the deadly explosion in the Sveta Nedelya church in 1925, organised by the communists, at the instruction of their Soviet 'nachalnyks' (bosses). But the Bulgarian secret services should definitely be ready for a new wave of recruitment of Russian agents of influence; for a surge in the activity of paramilitary groups; for increased funding of subversive actions; and for a radicalisation of Russia's information and propaganda war, with a new Soviet propaganda radio "Hristo Botev" transmitting to Moscow, only this time the "broadcast" will be from Bulgarian territory and Bulgarian media and social networks.
All this fuss about the new Rusintern and Nikolai Malinov's new job also serves a far more prosaic function. It raises his international status and gives him the appearance of immunity as a top Kremlin asset. Of course there's a catch: what guarantees and protection can Moscow ultimately afford him now that the International Criminal Court has issued an international warrant for the arrest of his patron Vladimir Putin? In fact, far from being known to history for being on the honour roll of Great Bulgarian friends of Russia, Mr Malinov might end up on a very different list: the list of those indicted before the International Tribunal that will prosecute the crimes of the Putin regime.
Ilian Vassilev